The MS02 wireless glove barcode scanner is the next generation in hands-free scanning design and comfort With a wearable ring scanner meeting the needs of the new warehouse.  allows users to effortlessly scan while keeping their hands free. helps your retail operations run smarter. With flexible connection option through Bluetooth, NFC tag, and Scan to go App; With Zebra Scan engine, Mid-Rage scanning distance, quickly decoding the 1d and 2d barcodes; The wearable wireless glove scanner is your warehouse best solution.
Feature:

• Meet the most stringent turn-around times for click-and-collect
• Keep store shelves perpetually stocked
• Process incoming shipments faster and more accurately for near-instant availability for order fulfillment and front-of-store replenishment
· A removable battery that allows you to keep your ring scanners in service every minute of every shift
·The small, light, low-profile is practically weightless for all-day comfort.
· Just tap for instant pairing
With NFC, workers can simply tap the MS02 Glove Scanner on NFC-enabled Mobile devices. No need to scan a pairing barcode or open Bluetooth settings to identify and select the device.
·The MS02 Glove Scanner is with IP65 grade; a best-in-class rugged design, with sealing, a drop specification, and a tumble specification
· Support to connect to other devices such as wearable terminals, smartwatches, and tablets via Bluetooth
· The glove scanner MS02 allows the users to effortlessly scan while keeping their hands free.
Accessories
1 x 2D Scanner
1 x  wearable glove
1 x  charging cradle
1 x  battery
1 x User manual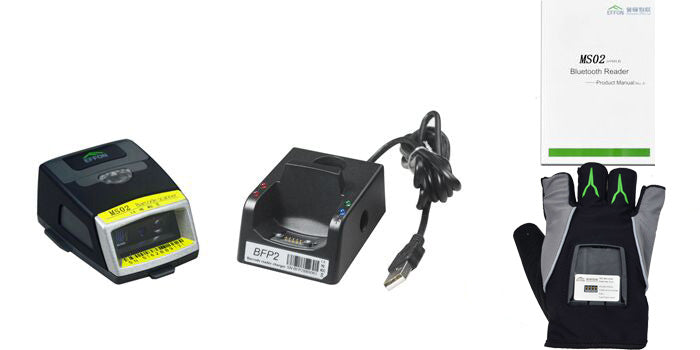 About Delivery  
1. Ship directly from China to your country through DHL/FEDEX/UPS Etc, it usually 4-6 days to reach your country

2. If our overseas warehouse has inventory, we will give priority to the nearest warehouse to arrange delivery
Warranty
the scanner is with 2 year of quality warranty. 
the gloves are with 3 month's warranty