Description
MS3391's mini barcode scanner superior performance, excellent reading ability come from the Unique Dyna ExpoTM algorithm.

With U disk capacity, it makes your work more convenient and flexible, you can store more than 10000 pcs15bit character barcode. With a handheld adapter, you can make MS3391 as a traditional USB handheld barcode scanner that works with a PC. Tiny size, easy to carry. Extremely durable and reliable and backed by a comprehensive two-year warranty that protects your investment
The pocket  Scanner combing with a wearable Glove, which can free your worker's hand, Operator even no need to put the heavy package to the desktop for scan, it will save more time and physical strength and can increase 15%-30% productivity!
With U disk capacity, the pocket mini scanner makes your work more convenient and flexible, you can store more than 10000 pcs15bit character barcode. With a handheld adapter, you can make an MS3391 portable scanner as a traditional USB handheld barcode scanner that works with a PC. 
Feature:

Tiny Size, easy to carry
Lightweight, easy to carry for your whole day working

Decoding Ability
Using Zebra scan engine, it can scan all common 1d barcodes especially damage barcodes

Bluetooth 3.0 Data Transmission
30 Meter Bluetooth Transmission, BLE for optional

Communication
Class 3 Bluetooth HID, SPP with 30M distance

Power Battery
Built-in 600mAh Rechargeable Battery

4MB U disk
Offline scan barcodes, Can be saved as CSV/TXT

System Compatibility
Android/IOS/Windows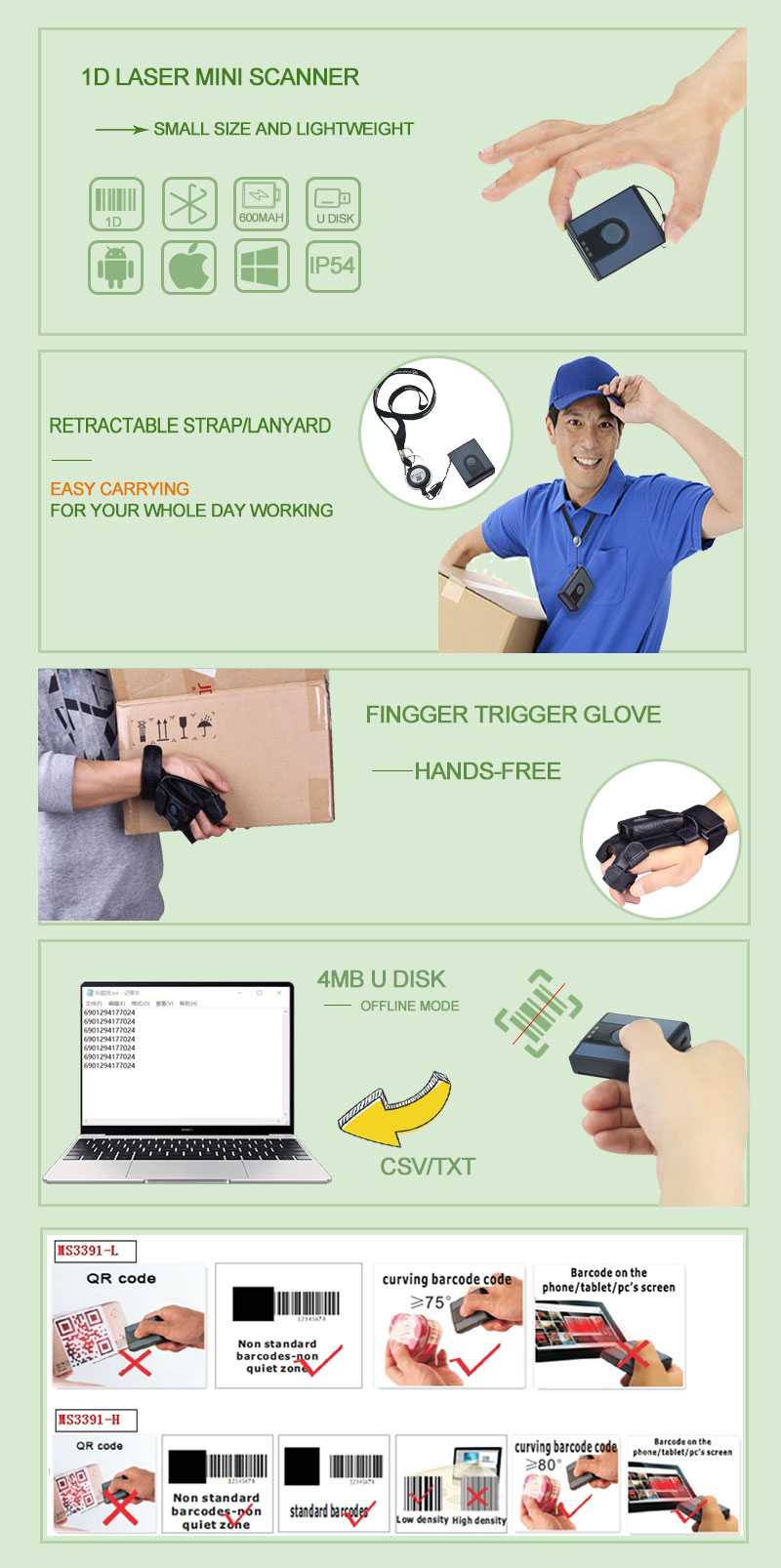 Technical Parameters
 Product Name: MS3391-L small 1D Laser Barcode Scanner
Dimension: Length:57.8mm, Width: 42.3mm, Height:16.4mm
Weight: 39g
Electrical: Power: DC5V Typical: 75mA DC5V
CPU:32bit ARM CPU
Data Storage: 4MB for U disk mode
Working Mode: Bluetooth mode, USB output mode, USB virtual COM mode, U disk mode, U disk with Bluetooth mode, U disk with USB mode, Language selection, Date and Time attached, Buzzer Volume setting.
Scan Mode: Good-read off, Momentary, Alternate, Continuous, Host
Artificial light immunity: 100,000 lux
Scanner performance: Sensor Type: Laser Diode 650nm Scanner Rate: 100 times
                                    Scanner Angle: ±50°,±65°,±35°(skew, pitch, Roll)
                                    Contrast: >20%
                                    Decode Speed: 100 times per second
Battery power: Internal Battery: Rechargeable 600mAh Li-ion Battery, Standby 5 days
Charge time: About 1.5 hours
Barcode Type(1D): UPC-A, UPC-E, UPC-E1, EAN-13(ISBN/ISSN), EAN-8, Code 39(code 32,Trioptic code 39), Interleaved 2 of 5, Industrial 2 of 5, Matrix 2 of 5, Codabar,
Code 128, UCC/EAN 128, ISBT 128, Code 93, Code 11, MSI/Plessey, China Post, GS1 DataBar(GS1 DataBar Truncated), GS1 DataBar Limited, GS1 DataBar Expanded.
Decoding depth & Max. resolution
(1 mil = 0.0254 mm)
4 mil: 42- 75 mm
5 mil: 40-105 mm
10 mil: 10-250 mm
15 mil: 23-380 mm
20 mil: 35-490 mm
30 mil: 30-650 mm
55 mil: 75-900 mm
Communication: Class 3 Bluetooth HID, SPP with 20M distance, USB(optional)
OS: IOS, Android, Windows, Mac
Warranty:
2-year quality warranty
During that period time, if there's any quality problem that can't solve, you can return back to us. Postech will undertake the round-trip shipping cost and repair it well.
Accessories:
1 x MS3391-L scanner
1 x scanner jacket (you can attach the scanner on the back of the smartphone
1 x Lanyard
1 x 3M double-face adhesive tape for a jacket